Featured Book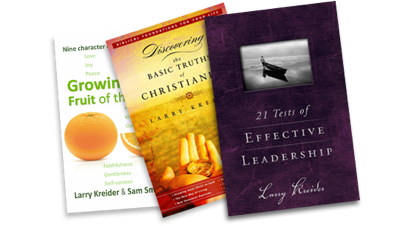 As leaders we all face tests, and we should welcome them. The greater our call to leadership, the greater the tests will be. Problems only provide the opportunity for us to grow and become more mature as leaders. Surviving the tests teaches us humility, because we have been tested and remained faithful. No matter if we are leaders in the workforce, in our homes, our communities, our church or in a variety of organizations, this book will help us stand when the task becomes difficult and demanding.
What others are saying:
"In his book "21 Tests of Effective Leadership" Larry Kreider, internationally acclaimed Christian leader, draws from his own life experiences, as well as those of other church leaders and leaders in the secular marketplace, that have faced these same tests successfully. He has compiled a unique collection of relevant short illustrative sketches, anecdotes, and proven principles to validate each of the tests of leadership developed within the contents of the book."
"Kreider establishes standards of character, leadership skills, and step by step solutions to facing each of the 21 tests which begin with discovering your personal call to leadership, establishing priorities, empowering others, demonstrating leadership through example, and handling conflicts. Kreider also points out how tests of character, such as humility, integrity, dependence on God and perseverance are significant and vital in the process of self examination by anyone honestly seeking to improve their effectiveness as a leader."
"Each chapter includes questions for personal reflection. These thought provoking questions are also ideal for executive staff meetings, training sessions, for suggested reading for every level of staff leadership, and for developing present and future leadership roles. I especially appreciated Larry's detailed research and documentation, providing hundreds of excellent tools for further reference and study. His writing is articulate, timely, and motivational." ?Richard R. Blake, (Bridgman, Michigan)
---
"Great timing for this great book. One of the most missing evidences of life in the church is effective leadership. It is not generally taught and therefore many miss the opportunity to maximize their learning due to ineffective leadership from the pulpit and in the many ministries."
"This book 'hits the spot' and this Christian Leader knows just how to present this missing need to help and aid all of us. This book should be required reading and study, and then application in all Christian churches. Excellent book!"?Robert A. Burns "Pastor Bob" (Wyomissing, PA USA)
---
Allow the Lord to develop your attitude, character, gifts, and talents as you face the challenge of passing the "21 Tests of Effective Leadership" in your family, business, community, and church experiences.
?It is wonderful to be able to endorse this book on the 21 Tests of Effective Leadership. In a day where so many excuses are made for people who fail in qualification, we now have a trustworthy presentation of the standards we should establish for leaders. Bravo, Larry, for another important contribution.? ?Daniel Juster, Th. D, Director Tikkun International. Author of Due Process and other books.
---
?In all arenas of life, we see a trend of failing leadership. This book by Larry Kreider is timely and an excellent tool to help correct this trend. These 21 tests must be passed if one is to be an effective leader, especially in God?s Kingdom. Larry writes from life experience, and his journey will inspire you to press on through challenges and see them as tests, knowing that they will equip you to become a leader who truly represents the King. Thanks, Larry, for sharing your life; you live what you have written.?
?Tony Fitzgerald
, Apostolic Leader of Church of the Nations
---
With 21 Tests of Effective Leadership Larry has again compiled another practical volume of vignettes, anecdotes, and principles for leaders in the Church and the marketplace. Consistently, he encourages us to see every day challenges of life and leadership from the perspective of overcomers, not victims. The discussion questions provide a valuable way to personalize choices at both crossroads and in crises. I envision seasoned and emerging leaders sitting together to profitably explore the applications of these tests.
?Keith Yoder
, Founder and President, Teaching The Word Ministries
Author of Healthy Leaders, Pennsylvania
---
Larry Kreider is a leader of leaders, and one who has my utmost respect, trust, and friendship. I encourage every believer who desires to reach his or her maximum leadership potential to invest in this book, and glean from the seasoned insight of one the Body?s true Apostolic leaders.
?Robert Stearns
, Eagles? Wings Ministries, New York